With a selection of great collecting and historical-artistic relevance, the auction dedicated to the 20th century Decorative Arts and Design on 23 and 24 June 2022

is part of the setting of the 60th edition of the Salone Internazionale del Mobile di Milano, presenting among numerous sections two special focuses dedicated to Fontana Arte and Yoichi Ohira's Murano glassware. In concomitance with the exhibition "Stanze del Vetro" dedicated to Fontana Arte, a group of significant works in terms of quality and rarity stand out in the catalogue. This selection includes a precious elliptical mirror with a crystal prism frame designed by Max Ingrand in the 1950s (lot 156, estimate € 11,000 - 12.00), a pair of sumptuous wall lamps in cut and chiseled crystal by the same author (lot 155, estimate € 9,000 - 10,000) and a very rare floor lamp with a flower vase designed by Pietro Chiesa in the 1940s (lot 157, estimate € 17,000 - 20,000). From the same private collection from which Ohira's works sold in the last auction, another five unique pieces of extraordinary technical virtuosity and poetic inspiration are now offered at auction, among which the cobalt blue vase with star murrine in lattimo (lot 136, estimate € 8,000 - 12,000) stands out for its singularity and chromatic quality.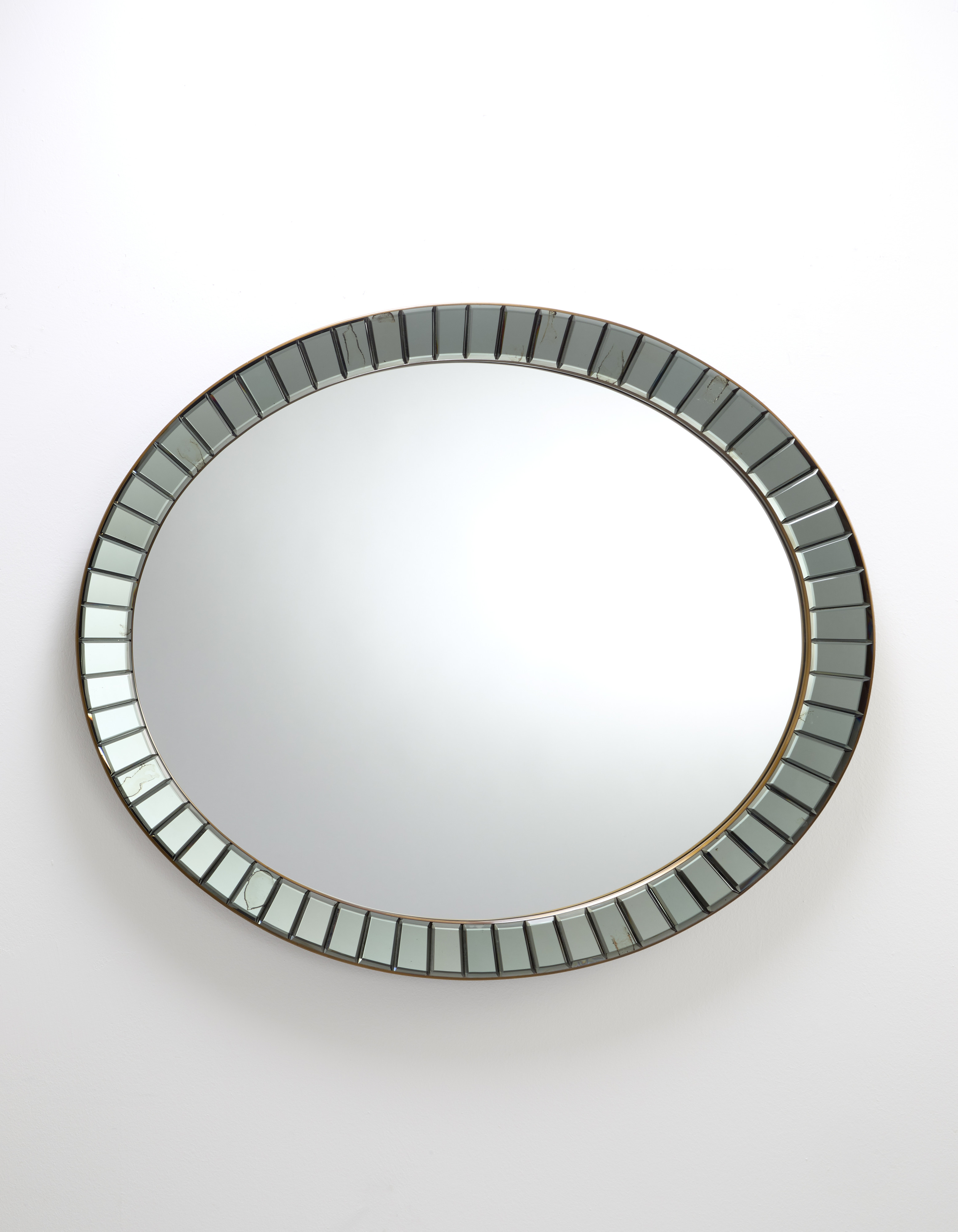 Lot 156 Max Ingrand, Elliptical mirror model "1608".
Produced by Fontana Arte, Milan, 1950s/1960s.
Estimate € 11,000 - 12,000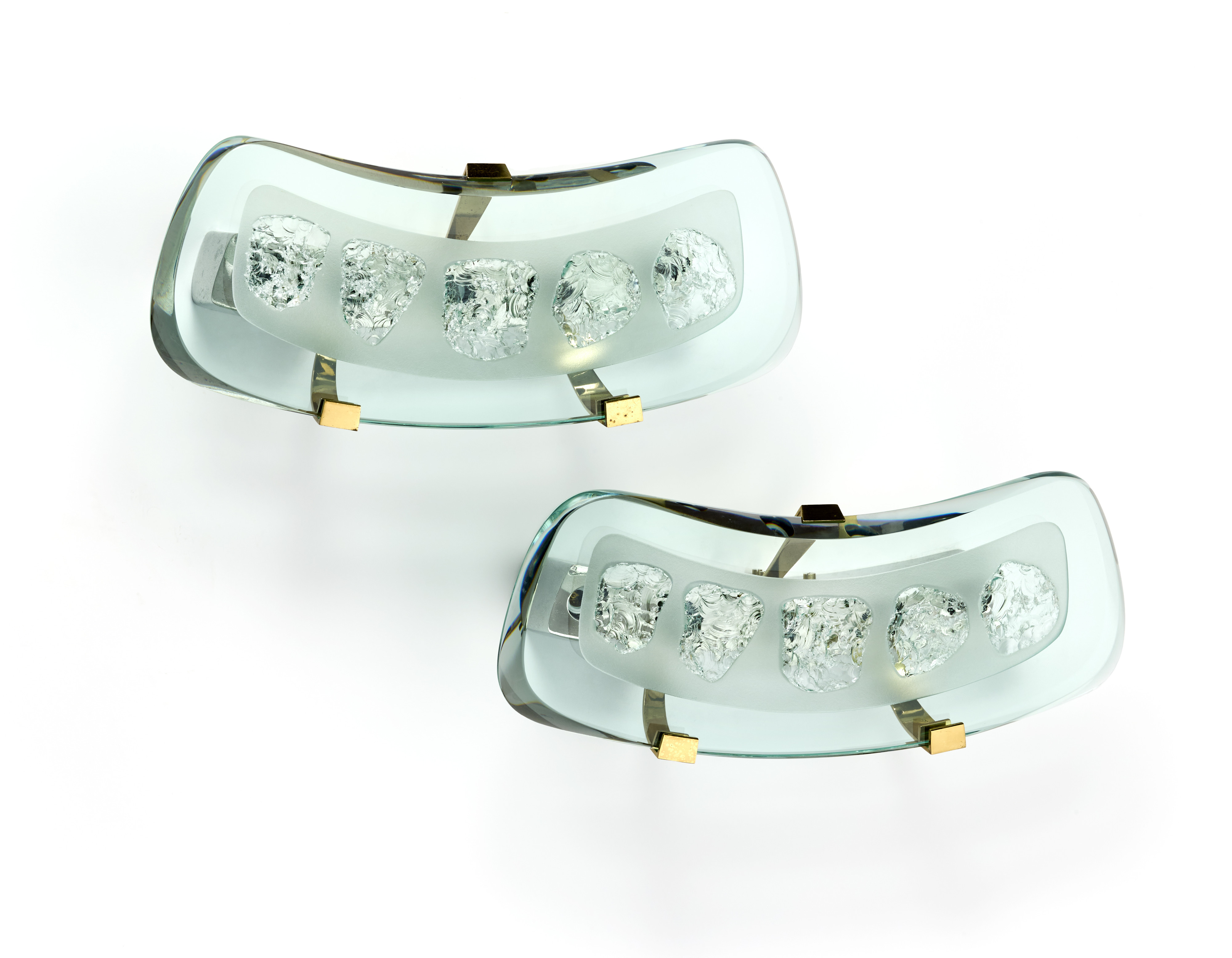 Lot 155 Max Ingrand, Pair of wall lamps model "1598".
Produced by Fontana Arte, Milan, 1950s.
Estimate € 9,000 - 10,000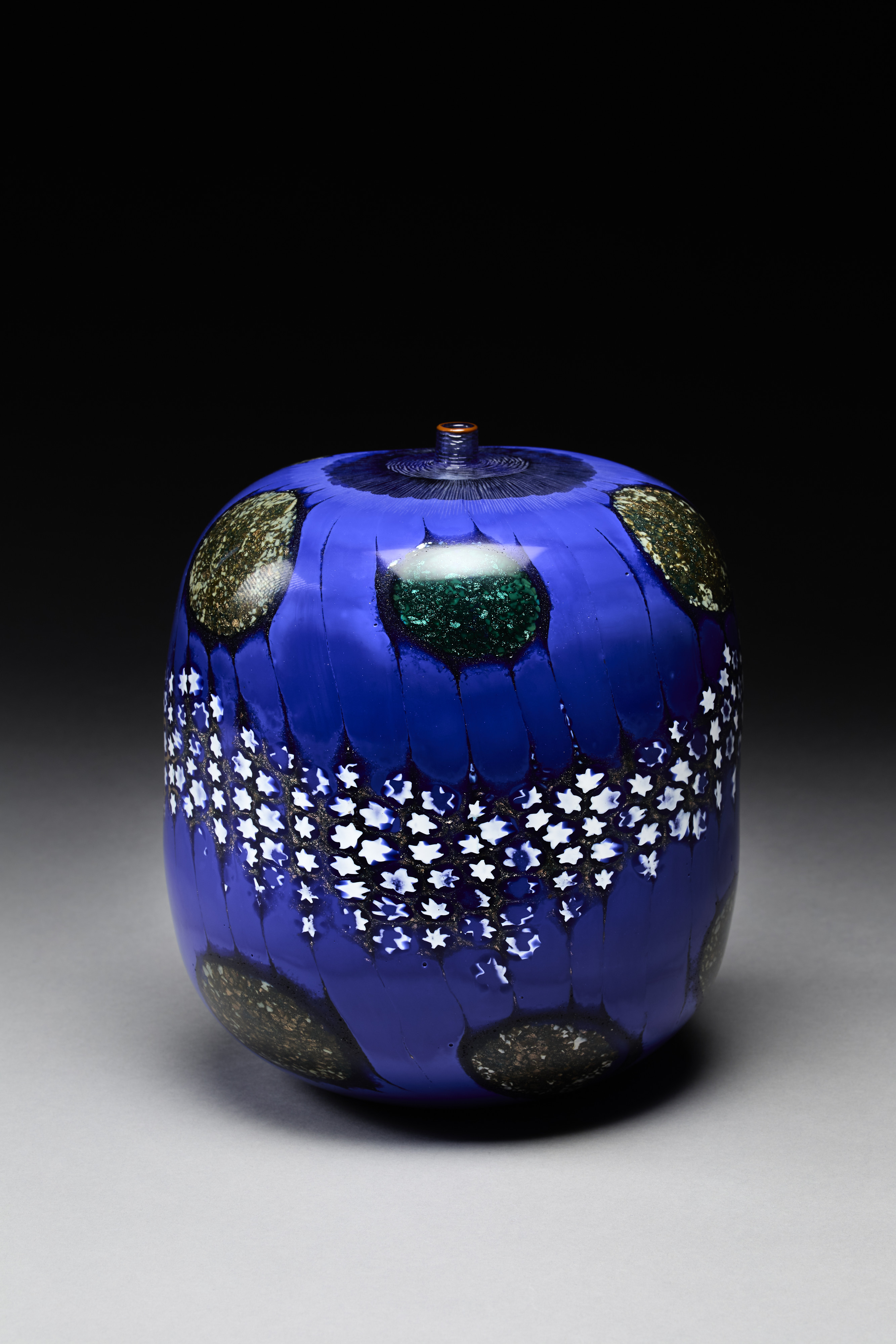 Lot 136 Yoichi Ohira, Vase with cylindrical body with cylindrical collar.
Execution by Livio Serena e Giacomo Barbini, Murano, 2003.
Credits Studio Amendolagine Barracchia for Il Ponte Casa d'Aste.
Estimate: € 8,000 - 12,000



From the same property also comes a fine selection of Murano glass art by Carlo Scarpa, Ercole Barovier and Fulvio Bianconi. These three masters are also present at the sale through a second Milanese collection of Murano glass composed by other works of Flavio Poli, Ercole Barovier, Paolo Venini, Giuseppe Chiacigh, and an example of the exceptional "Coppa delle Baccanti", designed in 1956 by Oskar Kokoschka, made by the master glassmaker Albino Carrara for the Ferro and Lazzarini furnace and decorated with engravings by Dal Pos in the S.A.L.I.R. (lot 110, estimate € 9,000 -10,000). To complete a selection of Murano glass of great interest for the specialist collectibles there are also two precious and enigmatic vases attributed to Carlo Scarpa from the series "Lattimi aurati" (lot 109, estimate € 9,000 - 15,000 - lot 108, estimate € 5,500 - 6,000).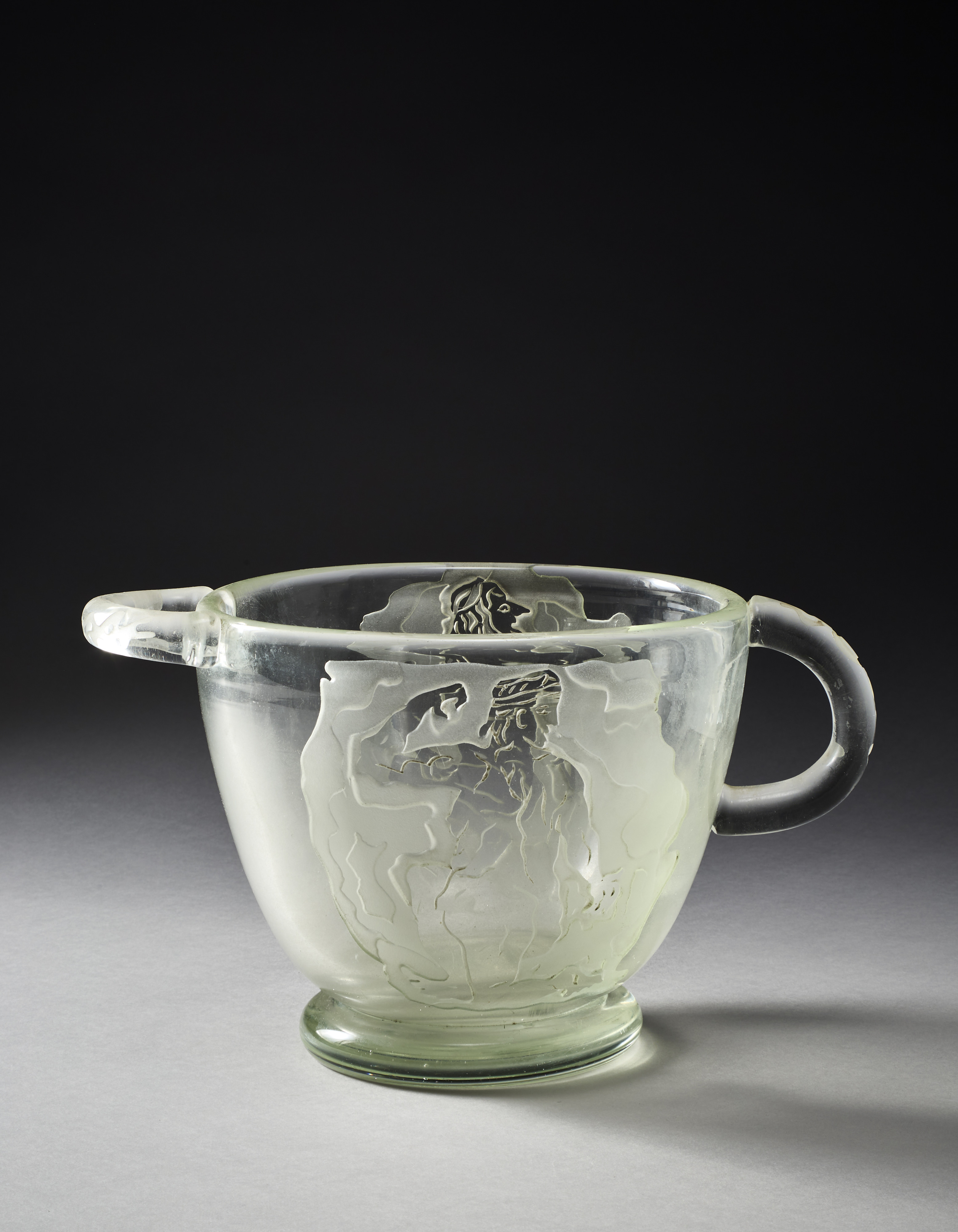 Lot 110 Oskar Kokoschka, "Coppa delle Baccanti"
Large double-sided vase in thick transparent colorless blown glass, with handles and base applied by heat.
Execution of the master glassmaker Albino Carrara; external surface with anthropomorphic decorations engraved in sand by Dal Pos.
Execution by Ferro e Lazzarini, S.A.L.I.R. Murano, 1953ca. (38x21x38 cm.)
Estimate: € 9,000 - 10,000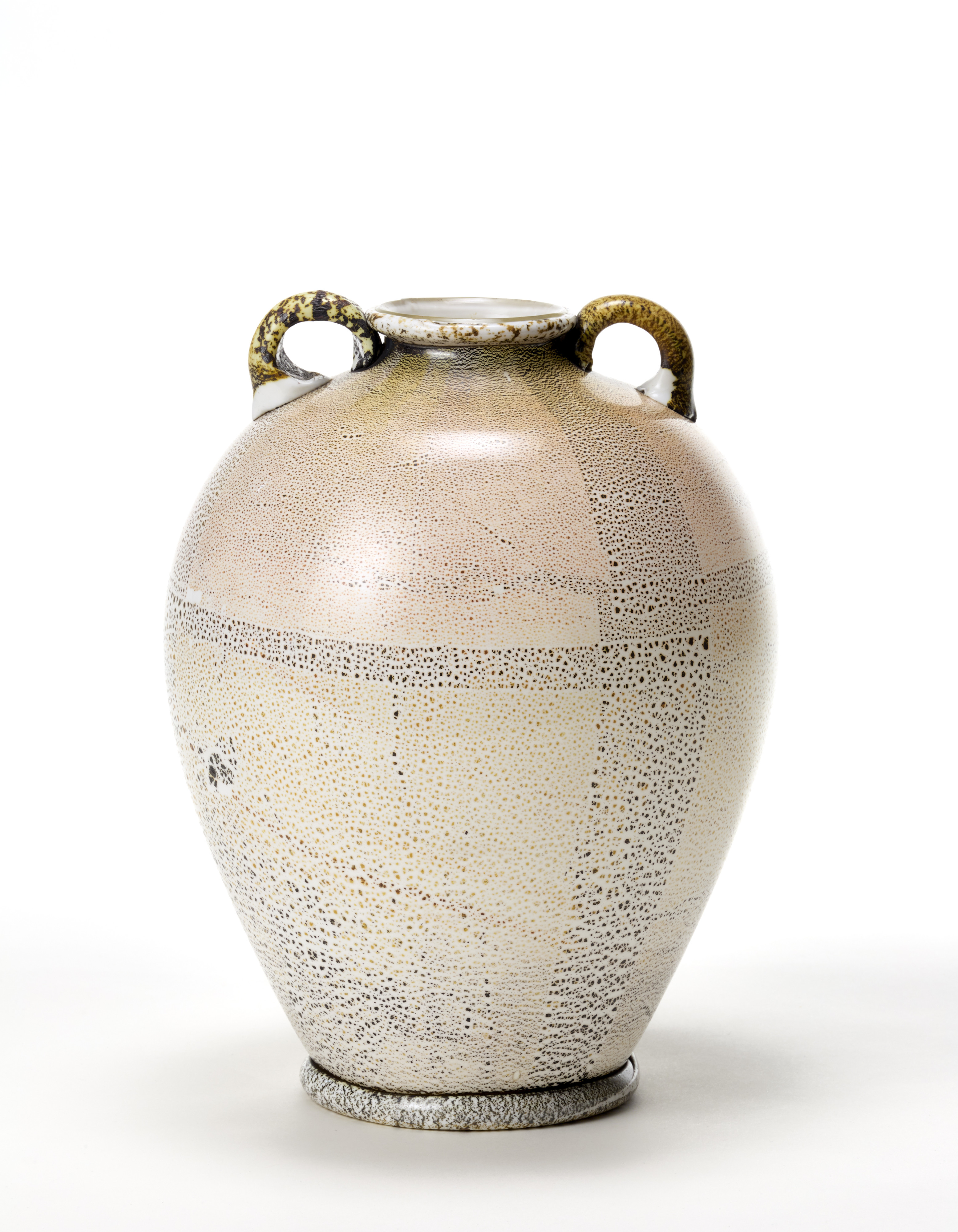 Lot 109 Carlo Scarpa (Attributed)
Vase with small rounded handles and hot applied toroidal foot of the series "Lattimi aurati".
Execution by Probabile esecuzione MVM Cappellin, Murano, 1929/1930.
Estimate: € 9,000 - 15,000



The world of ceramics is represented by two important Pietro Melandri vases, the monumental all-round sculpture "Atteone divorato dai cani", by Angelo Biancini for the Laveno Ceramic Society (lot 27, estimate € 6,500 - 7,000) and by the famous Manlio Trucco "Rondini" vases by for the Fenice of Albisola (lot 20, estimate € 1,200 - 1,500).
Produced by Tiffany Studios in New York, the table lamp with 'Peony' shade and six-legged bronze base is a masterpiece of the Art Nouveau era, and epitomises the vitalistic inspiration for the strength and beauty of nature that moved artists at the transition between the 19th and 20th centuries (lot 129, estimate € 12,000 - 18,000).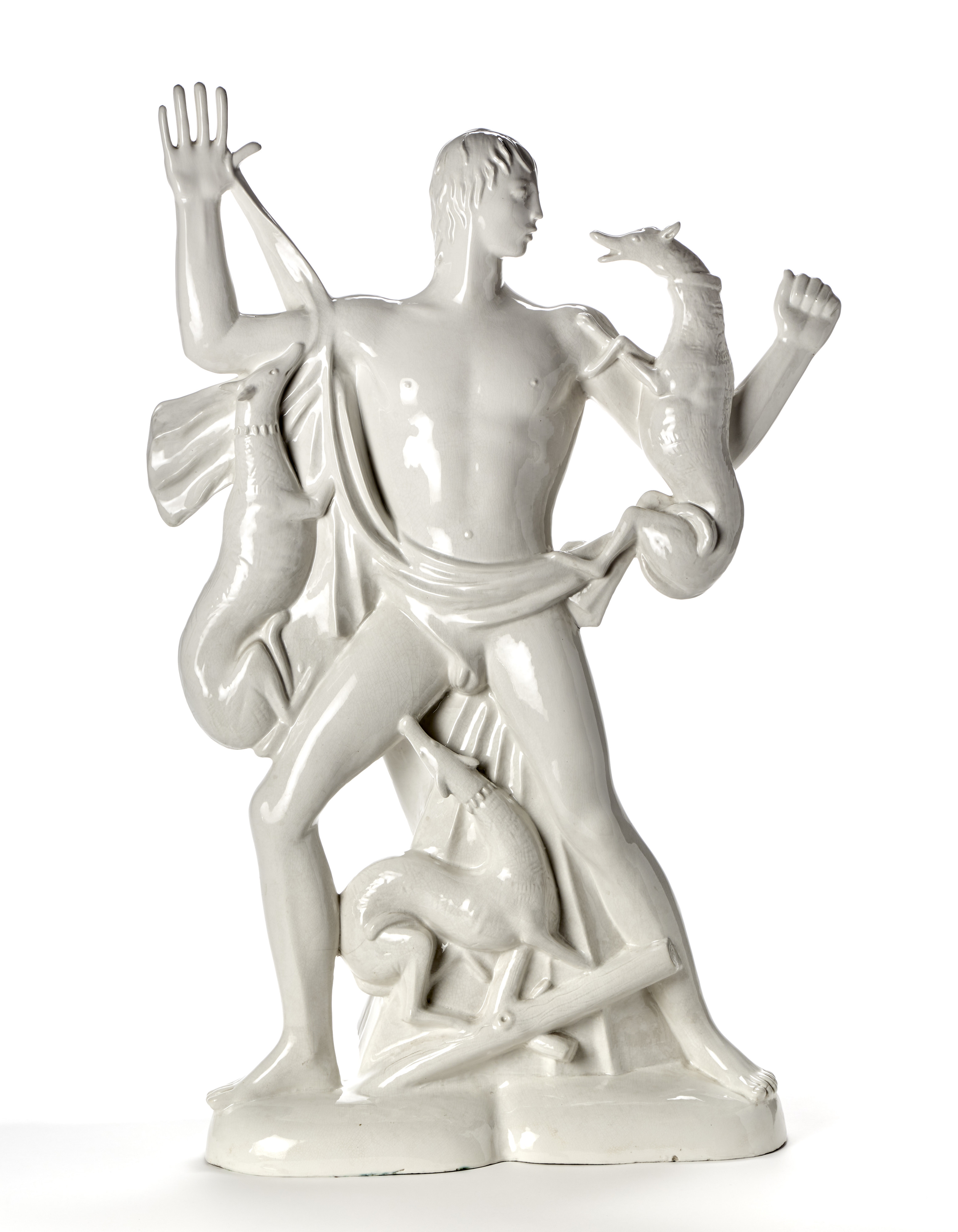 Lot 27 Angelo Biancini "Atteone divorato dai cani" Sculpture.
Manufacture of Società Ceramica Italiana, Laveno, 1956.
Estimate: € 6,500 - 7,000


Lot 129 (Attributed) Table lamp. New York, 1910ca.
Lampshade in glass paste of various colors, grain and surface, model "Peony 1505, 22 inc."
Estimate: € 12,000 - 18,000




Ettore Sottsass is represented by a large group of glassware and the elegant comb-framed mirror for Santambrogio and De berti (lot 128, estimate € 11,000 - 12,000). Franco Albini is present with the elegant deckchair known as 'Dondolino' (lot 73, estimate € 7,000 - 10,00) and with some furnishings made by the Pavia-based company Poggi, while the tangencies between design and Arte Povera are witnessed by the work of Mario Ceroli, whose 'Rosa dei venti' table and a rough Russian pine sofa for Poltronova (lot 56, estimate € 5,500 - 6,000) are present. Next to some furnishings by Paolo Buffa of astonishing executive quality and a group of furnishings by Osvaldo Borsani, a rare fibreglass and leather sofa, model 'Simone' by Cesare Casati and Vincenzo Hybsh, completes the top lots of the first auction session, produced by Confort in the 1960s, and the architectural piece of furniture "San Luigi", one of the two known examples, realised from a drawing by Maurizio Duranti for the exhibition Le credenze come architetture domestiche, curated by Ugo la Pietra as part of the manifestation Abitare il tempo di Verona in 1991 (lot 60, estimate € 3. 400 - 3.500). Lighting by Arteluce, Arredoluce, Fontana Arte and O-Luce are presented at the end of the auction session.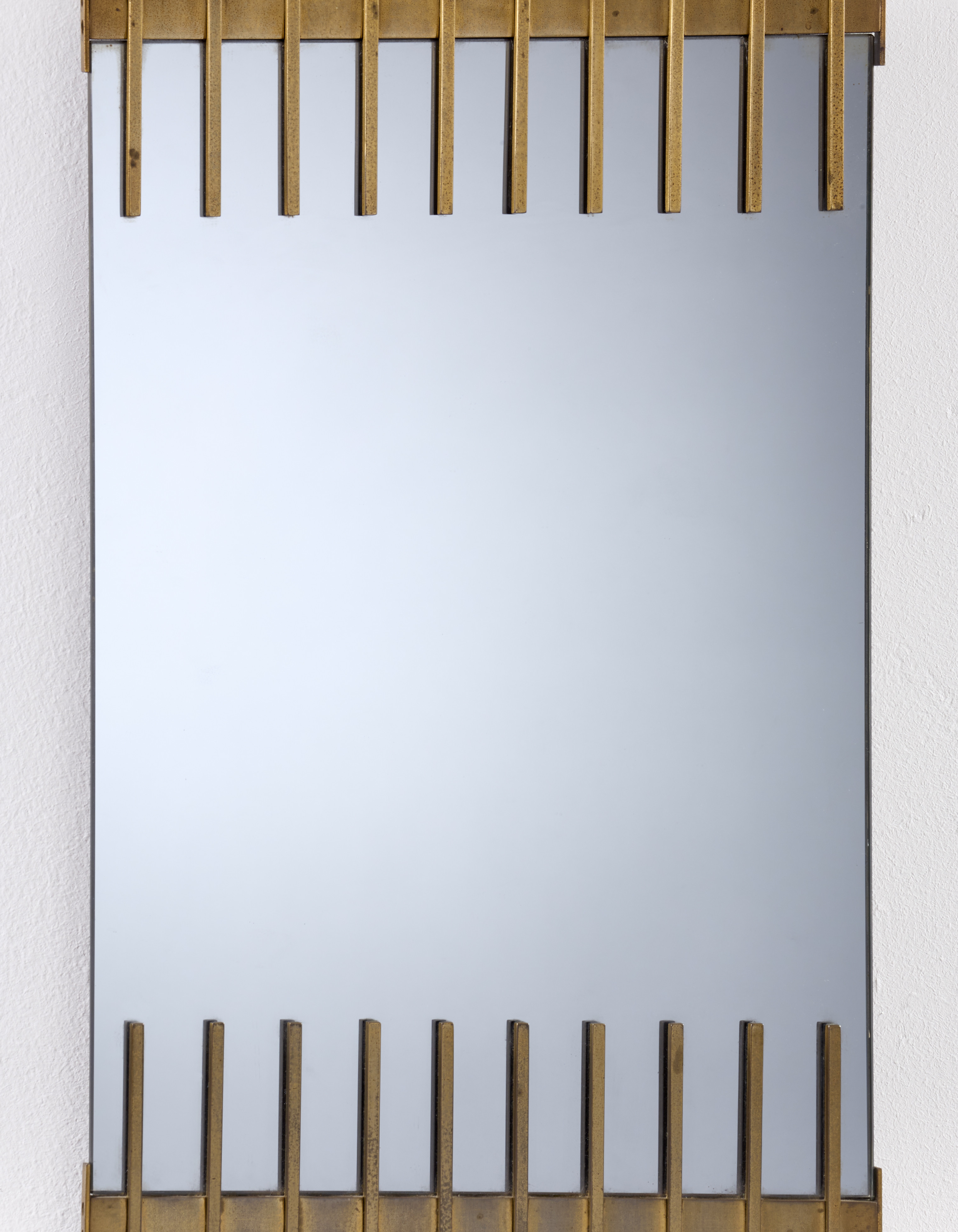 Lot 128 Ettore Sottsass Mirror.
Produced by Santambrogio e De Berti, Liss, 1950s/1960s.
Estimate: € 11,000 - 12,000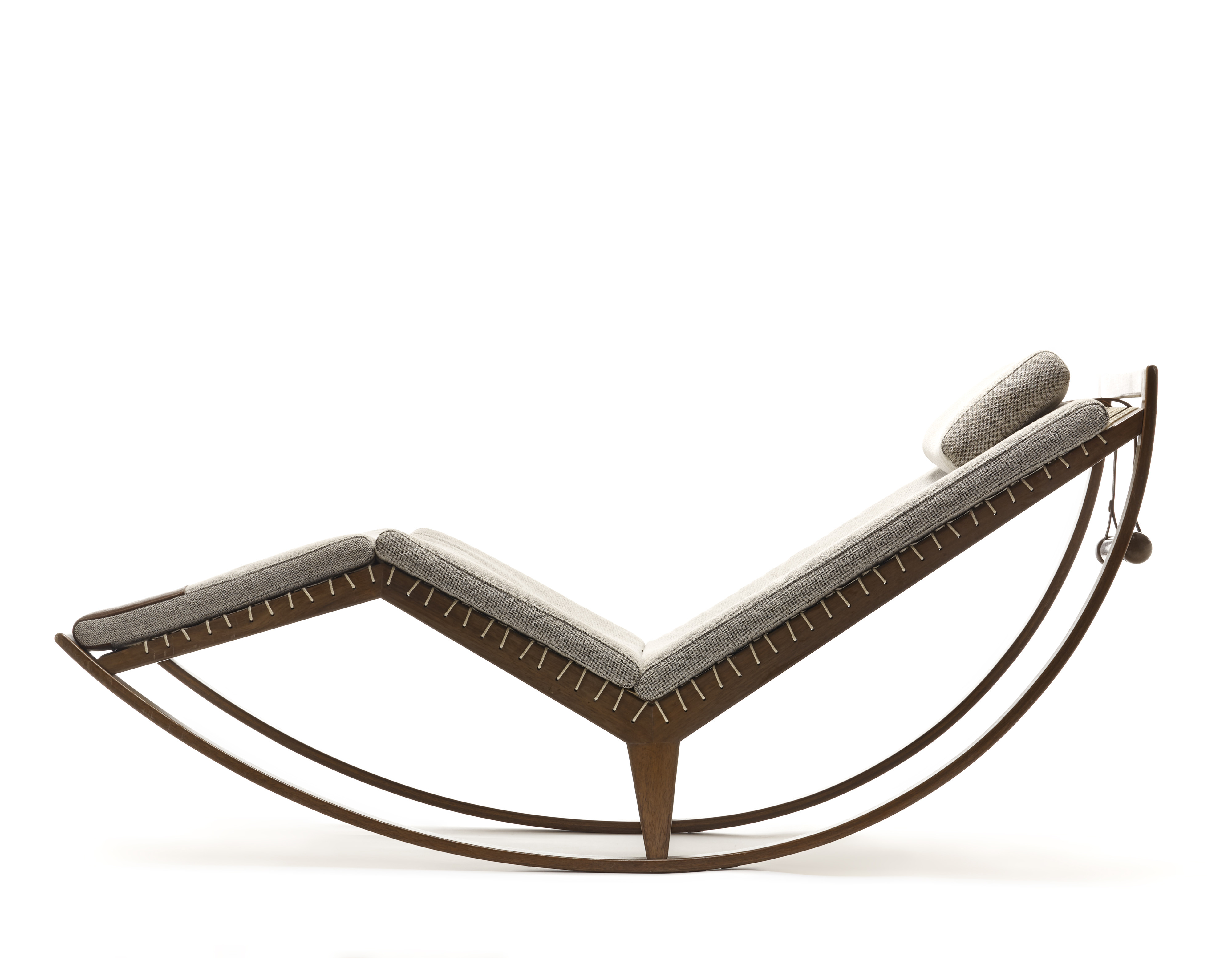 Lot 73 Franco Albini Rocking chair model "PS16".
Produced by Poggi, Pavia, 1959.
Estimate: € 7,000 - 10,000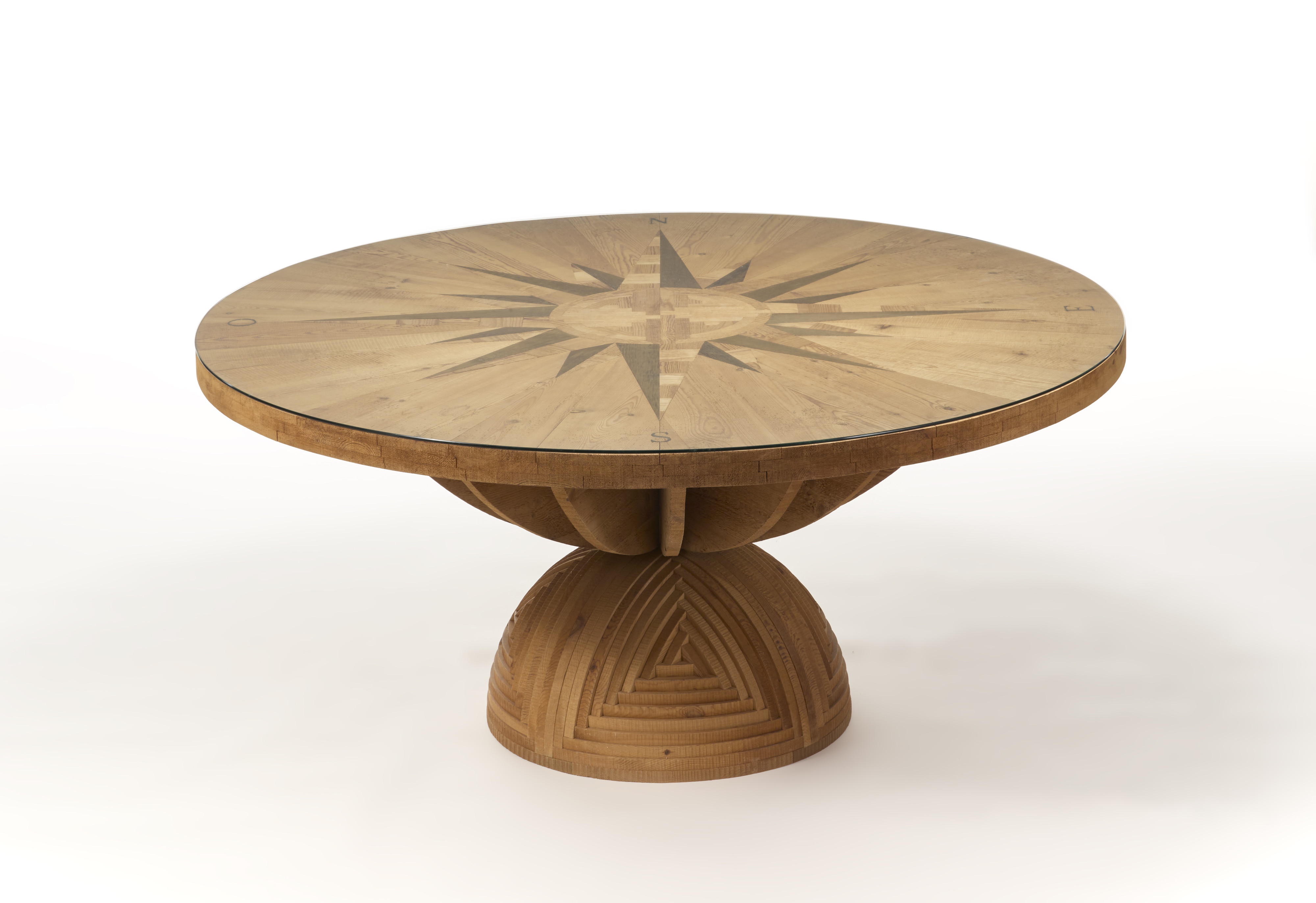 Lot 56 Mario Ceroli "Rosa dei venti" Table.
Produced by Poltronova, Florence, 1973.
Estimate: € 5,500 - 6,000



Finally, the protagonists of the second auction session are the decorative arts, lighting and 20th century Italian and foreign furniture, with some focus in the third session on: Azucena, with 38 lots including lighting and furnishings; Venini and Murano after the Second World War, with approximately 50 lots; approximately 30 drawings and heliocopies, mostly unpublished, by Carlo Mollino, Gio Ponti, Paolo Buffa, Piero Portaluppi and Alfredo Biagini.